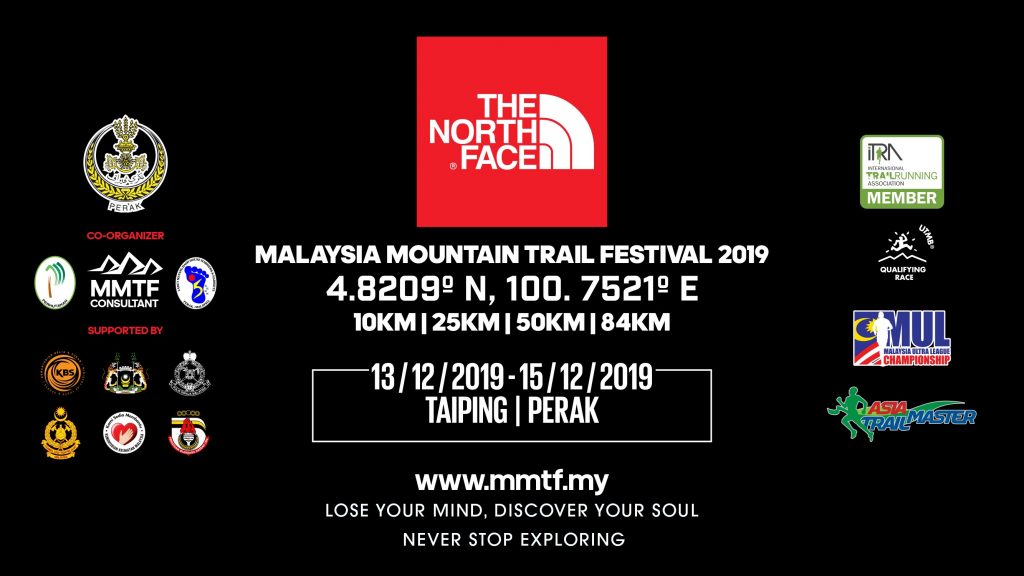 TNF MALAYSIA MOUNTAIN TRAIL FESTIVAL 2019 - SEPTEMBER UPDATE
TNF MALAYSIA MOUNTAIN TRAIL FESTIVAL (MMTF) PREPARATION – SEPTEMBER UPDATE 01 OF 02 – THE RIGHT APPARELS
Dear Runners,
Having the right apparels will certainly make a difference at MMTF as being in a tropical country, the weather can be warm and humid if it is not raining. However things can take a drastic turn when it is raining heavily or when it gets cloudy and misty especially up the mountain.
Do take note that Taiping is the wettest town in Peninsula Malaysia. The average annual rainfall in Taiping is around 4,000mm whilst the Peninsula's average is 2,000mm. Hence, having the right apparels will certainly make a huge difference, especially to the 55KM and 84KM runners.
A) Running Top – many runners prefer to run in cotton top because it is very comfortable and it soaks up the sweat. But when you are running in it over a longer period of time, it becomes heavy and wet after retaining all the moisture over time. The uneven stitching of cotton top can cause roughness and even bleeding in extreme cases. Instead of cotton, choose running clothes that are made to wick sweat away from the skin to the outer surface so that it will evaporate easily.
We recommend using flash dry top. Running tops made from tech fabric is more expensive than cotton, but it is well worth it to have a comfortable and dry run. Most race organizers today will provide running tops made of dri-fit/ flash dry fabric whether short sleeve or long sleeve which we would recommend them as well. The North Face Flight Series comes highly recommended by us.
We discourage (but not mandatory) runners from running topless at MMTF owing to the fact that weather conditions can be good at one moment only for it to take a drastic turn causing temperature to drop drastically, especially when runners are up in the mountains. Running with a top would also protect runners from the surroundings around the trails.
(Note: As there is no drop bag at mid-way point or at any point during the race other than at the finishing line for the 55KM runners, we would advise 55KM runners to carry a "spare" dry running top in their hydration bag/ vest to change into if the need arises)
B) Running Bottom – Whilst everyone may run in a running short or running skirt of their choice, we would advise every runner especially those in 55KM and 84KM category to invest in a good compression running shorts (with compression calf) or compression pants and wear them under those running shorts and running skirts. Besides protection against cold weather when it rains or get cloudy/ misty up in the mountains, it would also serve as a good protection in some way against leeches (we will deal with topic of leeches on another post).
We trust compression shorts and pants if further used with lubricating products like Bodyglide will combat chafing caused by hours and hours of friction. Compression shorts (with compression calf) or compression pants will also protect the skin from those "sharp edge" long coarse grasses, which would likely bruise the skin when runners run through them.
Above all a good compression short (with compression calf) or compression pants is believed to hold muscles firmly in place and improve blood flow to the muscles, thereby boosting athletic performance.
C) Compression Sleeve – Though this is not mandatory, we would advise runners in 55KM/ 84KM to prepare them.
D) Socks – We would advise runners to invest in a pair of good socks which would certainly help to prevent or reduce running related injuries or blisters. Besides a good compression socks will also protect runners from leeches (we will be making a specific post about how to deal with them on another post). The North Face Smartwool socks comes highly recommended by us.
E) Sunglasses – Light sunglasses are a must-have on bright days though not mandatory as it helps protect eyes from unseen branches. During the night, get a pair of clear glasses or photo-chromatic lenses that shift tint in the dark to protect eyes from unseen branches.
F) Vest/ Pack – Specialized running vests from The North Face, Salomon, Ultimate Direction, Compressport, Instinct, Nathan, and other brands carry water and gear in a snug package. They hug your back and stay stable on long runs. (We will dwell on this further when we make a post on mandatory items). Hand held bottles are strictly not allowed for 55KM/84KM runners.
G) Cap/ BUFF – We would also advise everyone to wear a hat/ buff. Besides using them as iconic fashion statement, they will also protect the runners from the sun, the low branches as well as in sudden temperature dropping situations.
We hope that the above will help everyone gear up better for MMTF 2019 and most importantly in other trail races or trail adventures to come.
Elite and experience runners are welcome and encouraged to add up and share their experience on our Facebook Page so we may all learn and add up from one another.
Happy Trails …
Team TNF Malaysia Mountain Trail Festival 2019
25th Sep 2019