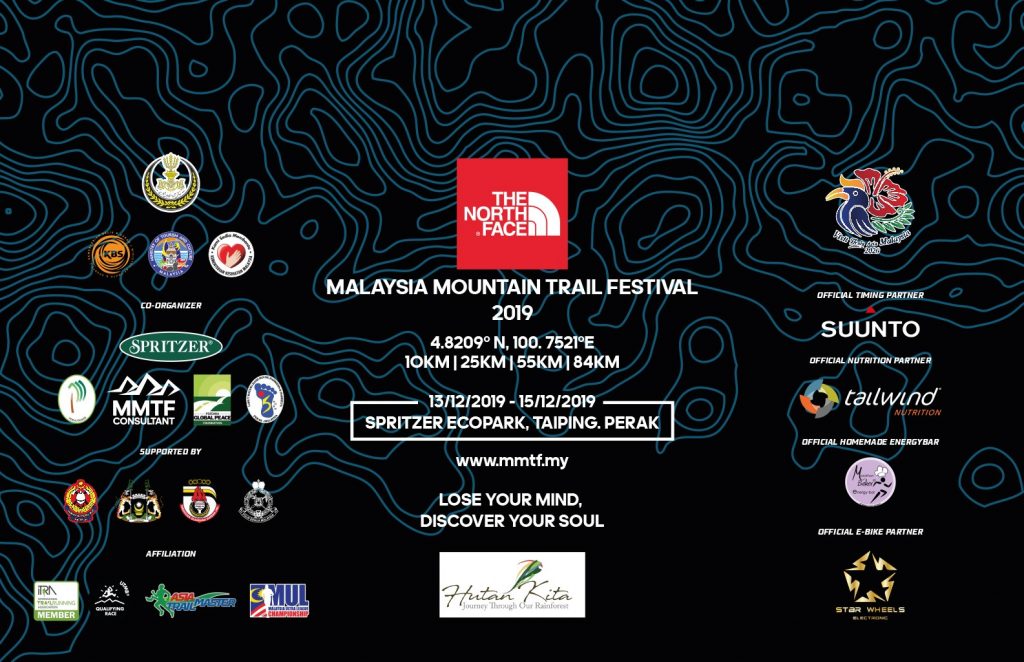 TNF MALAYSIA MOUNTAIN TRAIL FESTIVAL 2019 - OCTOBER UPDATE
TNF MALAYSIA MOUNTAIN TRAIL FESTIVAL 2019 – COURSE AND ELEVATION PROFILE 01 of 04 – 84KM ULTRA CHALLENGE
Dear Runners,
As we move towards race day in exactly 8 weeks from now, we will be releasing 1 course and elevation profile per week starting with the 84KM Ultra Challenge before we release the final event tee/ finisher tee design, owing to some changes we have made which we deemed are necessary and for everyone's best interest.
RACE – 84KM ULTRA CHALLENGE
START TIME – 06.00AM 14th DECEMBER 2019
COT – 28 HOURS
FINISH TIME – 10.00AM 15th DECEMBER 2019
TOTAL DISTANCE – 86.5KM (Trace De Trail Quoted)
TOTAL ASCENT – 5290m (Trace De Trail Quoted)
TOTAL DESCENT – 5300m (Trace De Trail Quoted)
ITRA POINTS – 4 POINTS
CHAMPIONSHIP – MALAYSIA ULTRA LEAGUE (MUL)/ ASIA TRAIL MASTER (ATM)'s SEASON FINALE
Notes :-
1. 84KM course is an upgraded course from 2018's 70KM course.
2. To ensure that we do not stress everyone out from CP to CP, this time round there will be selected CPs noted as mandatory COT CPs namely CP1, CP2, CP4, CP6, CP7. Miss the mandatory COT and you will be out.
3. No matter if you are front runners chasing each other or if you are back runners chasing the COT, do ensure that you report to every CP. Failure of which you will either be subjected to time penalty or be asked to return to the CP that you have missed.
4. There will be 1 drop bag for 1 time access at CP4/ 51KM. You will not have access to them again at CP6, even if you do not access them at CP4. This rule is mandatory.
5. To ensure the safety of the event crew, every drop bag should not be more than 5KG. Please do take note that whilst bags can get wet during the transfer process, its every runners own responsibility to ensure that everything is properly sealed and packed in a waterproof bag to prevent the content from getting wet. The organizers will not be held responsible if the content do get wet during transportation.
6. Every drop bag should be deposited between 10.00am – 07.00pm on 13th December 2019, as all drop bags will be transported to CP4 by 07.30pm.
7. Except for CPO where ONLY WATER can be replenished, there will be Medic, Coke, 100 Plus, Tailwind, Biscuits or Bread and Fruits in every CP thereafter. Hot Meals will only be served at CP4.
8. Please do not divert off course and always stay on course following the markers.
9. DO NOT SLEEP ON THE COURSE. If you are caught doing so, you will be taken out of the course and deemed not fit to complete the race. Hence, you should only catch on your sleep at the CPs.
10. There will be a race briefing at 05.00pm on 13th December 2019 prior to "Elites Introduction Session" at 06.00pm and dinner/ carbo loading session at 07.00pm at Spritzer EcoPark, Taiping, Perak. We highly encourage everyone to attend the briefing as many who stayed away missed 2 very important points last year. That resulted in many runners who diverted off course as they were not aware of our marking strategy, and also failed to include the Bonus CP we have in place for their race strategy.
Happy Trails
Team TNF Malaysia Mountain Trail Festival 2019
14th October 2019